Search Engine Marketing (Digital Marketing):
Search Engine Marketing or Digital Marketing covers all types of marketing techniques like Web-designing & Development, SEO (Search Engine Optimization), PPC (Pay Per Clicks), SMM (Social Media Marketing), ORM (Online Reputation Management), Facebook Ad Marketing, LinkdIn Marketing, Twitter Marketing, Email Marketing, Affiliate marketing, Viral Marketing, and many More. Digital Marketing is one of the best way to reach your potential customers to generate more traffic to your business website & lead for your business. In the Digital Millennium each and every business needs to reach their target customers by different online marketing techniques.
Each Small & big business needs the online marketing strategy to reach new customers & generate more leads for there business.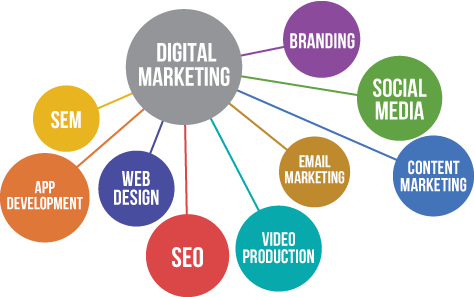 How to Reach Potential Customer Through Online Marketing Techniques or Digital Marketing Strategy:
Web Designing & Development:
Every Business Needs there online showcase by having a online website for that each business need web designing & development services for their business website. The business need to designing the website more user friendly & Search Engine friendly to drive more traffic & leads to their website.
SEO (Search Engine Optimization):
Through Search Engine Optimization (SEO) business website will reach more and more organic visits from search engines like Google, Yahoo, Bing, Yandex, MSN & More.
Pay Per Clicks (Google Ad-words): 
Through Paid marketing techniques PPC generate leads for our business from search engine, here we set the budget with our service or product related search terms & everyday set a budget for this. Once our budget will over our ads will disappear from search. For each click the business owner have to pay some amount to Search Engines like Google, Bing & Yahoo. Now Ads also available on social media platforms like facebook, Twitter, LinkedIn & other social channels.
Social Media Optimization & Marketing:
Now days more than 80% folks are engage in Social Media platforms like Facebook, twitter, LinkedIn, Pinterest, Google Plus & More. All this social platforms we need to generate Social profiles & fan-pages and optimized it properly to reach more & more target customers. We can share our offers, new lunch products & more on seasonal sales. We can do the ad marketing through the social channels.
Online Reputation Managements (ORM):
Online Reputation management (ORM) of a brand or person is most important for reputation manage in online. Through social platform we will manage brand online reputation & personal reputation. If any one give the negative review for a brand or person we need to avoid it from first page of Search Engines by Social activities to generate more Online Reputation.
Email Marketing:
Through Email marketing most of the web service & web product reach to the target customer. We have to generate more leads through our product and service related banners massaging by group emailing. Target should be specific category potential  peoples related to our service & products.
Affiliate Marketing:
We will show our product and services on third party sites to generate more leads. Our target is it will show more related sites where we can reach more targeted customers and generate more and more leads. Here also the third party site will get incentive for each leads sometime for each impression also.
Like this many more tricks are there to reach our potential customer through online marketing techniques. Kindly, add more Ideas by comments to lead more traffics for readers & there websites. This Post is Source of Our Digital Marketing Manager Chandramani Das LinkedIn Profile ….